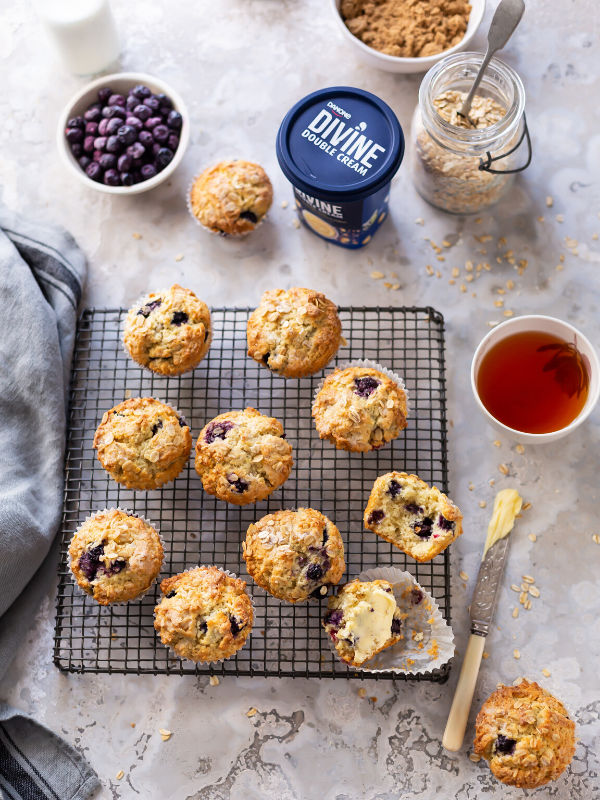 INGREDIENTS: (12 Muffins)
2½ cups (375gm) self-raising flour, sifted
2/3 cup (150gm) caster sugar plus extra for sprinkling
¾ cup (180ml) sunflower oil
3 free-range large eggs
½ Cup (140gms) Divine Double Cream Lemon Cheesecake
Zest of half a lemon (optional)
1 tsp vanilla extract
1/3 cup (30gm) Rolled oats plus extra for sprinkling
1 cup (150gms) frozen blueberries
DIRECTIONS:
Preheat oven to 180°C (350°F) and grease or line a 12-hole muffin tray with paper liners.
Sift the flour and caster sugar together in a bowl and mix to combine. Add the oats.
In a jug measure out the oil then add the eggs, yoghurt, zest and vanilla and whisk until well combined. Pour this into the flour and sugar mix and very gently fold through so it's just combined. Do not overwork the flour as this could cause a tougher crumb. When it's mixed but there still might be a few patches of flour, add the blueberries and fold through briefly until its fairly evenly distributed.
Using an ice cream scoop (makes it easier) divide the batter between the 12 muffin cups. Sprinkle a little sugar and a few oats over the top of each.
Bake for 25–30 minutes or until golden and cooked when tested with a skewer. Cool on a wire cooling rack.